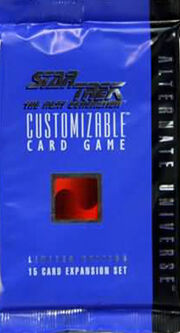 One hundred twenty-two cards related to alternate realities or universes: time travelers, alternate timelines, parallel universes, illusory or visionary experiences, surreal worlds and different "phases" of existence. These cards are identified by a special Alternate Universe icon on the card.
Expansion Pack
Cards per Pack: 15 ( 11 C, 3 U, 1 R )
Packs per Display: 36
Supplements: Rules & Card List Sheet (available in 6-display case)
Released on 18 December, 1995
Printed by: Carta Mundi, Belgium
Press Sheet: 11x11 C, 11x11 U, 11x11 R
Edition: unknown
Copyright Line - TM, ©, ® 1995 PARAMOUNT PICTURES.
Copyright Line - TM, ©, ® 1995 PARAMOUNT PICTURES daed si luap. (Paul Rice)
Card List
Edit
Additional FAQ
Edit
Introduced the following to gameplay: Persona (alternate version of a personnel; with different affiliation, skills and/or classification).
Added the following card type: Doorway.
Added the following affiliation: Neutral (in the form of an Outpost).
Added the following icon: Alternate Universe icon.
Berlingoff Rasmussen - The actor who played Rasmussen, Matt Frewer, also played Max Headroom, Coke spokesman and short-lived TV series star. On Rasmussen's sweater, you can make out the letters M, A, and X, a reference to Frewer's previous role.
Interphasic Plasma Creatures - In the corner of the computer screen, you can read: "DANSWERMAN@DECIPHER.COM." This is the former email account of majorrakal@decipher.com, Decipher's Star Trek: CCG question-and-answer entity.
Paul Rice - Next to the copyright line on the side of the card, "Paul is dead" is written backwards, a reference to many Beatles' albums that, when played backwards, supposedly said "Paul is dead." Ironically, the character Paul Rice was dead in the episode. The image on the card is a holographic re-creation of Paul.
Phaser Burns - The person in this picture is wearing a patch on his arm showing the name "Dan Burns." Dan was Decipher's art director and the man responsible for the incredibly high quality of the images on their cards. In his modesty, however, Dan made the patch so small that it is barely legible!
Rascals - The label above the entrance to the Jefferies Tube reads "You must be this high to ride this ride," a reference to such signs at theme parks. (The crew on Star Trek: The Next Generation also put a lot of gag signs like this around the ship, although this particular sign was created by Decipher's art department.)
Royal Casino: Blackjack - The poker chip on the left bears the number "253," a reference to Decipher's 253 Granby Street address (now 259!).
Senior Staff Meeting - the lore's "... solutions to paramount problems" is a reference to Decipher's difficulty negotiating the license renewal with Paramount Pictures at the time.
Yellow Alert - The number "07734" appears in corner of screen. If you look at that number upside down (especially on a calculator), it says "hello."